Cardiothoracic & Vascular Surgery

The Department of Cardiothoracic Surgery, started in 2000 by Dr K. Varadharaj, was established with a cardiothoracic intensive therapy unit and an operating room capable of performing openheart procedures for packages as low as 65,000 rupees. It has steadily progressed over the years to major vascular and thoracic procedures. Currently led by Dr P.R. Murugesan, the department will soon be offering programmes for heart and lung transplantation.
The department has achieved several milestones notable among them are contribution to many government initiatives, including the ongoing extended health scheme initiated by the state of Tamil Nadu. In October 2012, the CardioThoracic and Vascular Surgery (CTVS) team celebrated the landmark of completing 3,000 open-heart procedures at the institution.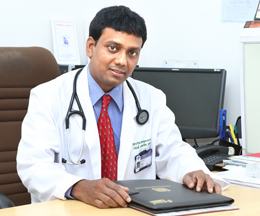 Dr P.R. Murugesan, Head of the Department of Cardiothoracic Surgery
Over the years, the department has increased the number of surgical procedures it performs from 20 to 75 a month. Paediatric cardiac procedures for congenital heart diseases are performed successfully. For the fist time in South India, it has acquired a new heart-lung machine that uses Extra Corporeal Membrane Oxygenation (ECMO) to circulate blood through an artificial lung and back into the bloodstream. The CTVS team also assists in kidney transplant programme.
The department performs diagnostic and therapeutic videoassisted thoracic surgeries. It is also renowned for performing procedures such as repair of the abnormal opening in the diaphragm, surgery to bypass diseased blood vessels, dorsal spine decompression surgery, insertion of intra-aortic balloon pump, and implantation of permanent pacemaker.
As part of spreading health awareness, it educates the patients by circulating health education pamphlets on areas such as coronary artery bypass grafting, valve replacement, prevention of formation of blood clots in deep veins and the science behind anticoagulants. In the near future, the department aims to become a centre for heart-lung transplantation and minimally invasive cardiac surgery.
Special clinics
Post CABG rehabilitation Clinic
Haemodialysis access Clinic
Oral Anticoagulant Clinic
Lung Cancer Clinic
Facilities
12 bedded Cardiothoracic and vascular surgical intensive therapy unit equipped with an advanced Haemodynamic monitoring system, drug delivering system and ventilator
Intensive care is given by 1:1 staff patient ratio and supervised by senior consultants round the clock
Well equipped with world class OT table, light anaesthesia workstation and Heart, Lung Machine and IABP support
CT ICU & operation room linked to the hospital intranet and PACS system
ICD tube removal, wound dressing, secondary suturing are handled as OPD procedures
OPD Procedures
ICD tube removal
Wound dressing
Secondary suturing
Download PDF