Interventional Radiology

Interventional Radiology is a sub-specialty of radiology wherein various diseases are treated via a small "pin-hole" in the blood vessels of groin or the wrist. It is similar to angiography procedures done for cardiac conditions and is done in a dedicated neuro-vascular cath-lab.
Neuro-Vascular Cath Lab
At PSG Hospitals we have the highly advanced "Philips Azurion" bi-plane cath lab. Our center has the first installation of this machine in western Tamil Nadu. The system has facilities for imaging the blood vessels simultaneously in two planes (angles), using half the volume of contrast dye and twice faster.
Advanced Facilities In Our Cath Lab
3D Spin Angiography.
3D Rotational Angiography and Road-mapping."In built" CT scan.
In built "Vaso-CT" and "CT Perfusion"
Carbon-di-oxide angiography for Renal patients
Low radiation protocols and Pediatric specific protocols.
Fusion techniques.
Why Interventional Radiology?
Avoids Major Surgery.
Avoids blood loss.
No sutures.
Faster recovery permitting "day care" procedures.
Reduced rate of infection and hospital admission duration.
Can be performed even when surgical treatment is not possible.
Medical Conditions
Stroke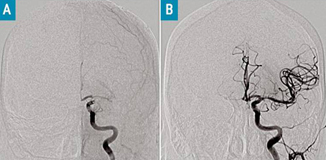 Stroke or "Brain Attack" is defined as Sudden onset of weakness in arm, legs and face affecting of one side of the body. Stroke is is a great burden to patients and their family. Any patient with stroke presenting within the "window period" or "Golden hours" can be treated with complete recovery of power. "Aspiration catheter" or "Stent retrievers" are used for the above procedure. The earlier the initiation of treatment, higher the chances of complete recovery. For Stroke prevention various treatment options like Carotid artery stenting, Vertebral artery and intra-cranial stenting are performed. Screening with CT Angiography or digital subtraction angiogram (DSA) is useful for predicting the risk of stroke.
Who Should Get Evaluated?
Patients with previous history of Stroke or Recurrent TIA- Transient Ischemic attacks.
Relatives with history of stroke.
Smokers and tobacco users.
Patients with diabetes mellitus, hypertension.
Patients rheumatic heart disease, coronary artery disease, heart failure, valve replacement on medications.
Hypercholesterolemia.
Intracranial Aneurysms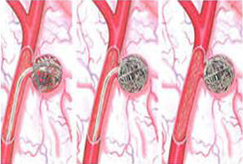 Intra-cranial aneurysms are "abnormal sac-like out pouchings" arising from the blood vessels in the brain. They occur in 3 % of normal population. Smokers, middle aged females and patients with certain inheritable conditions like Marfan's syndrome are at higher risk. When the aneurysm rupture, they lead to a serious condition called sub-arachnoid hemorrhage or bleeding into the spaces around the brain.
Interventional Radiology For Intracranial Aneurysms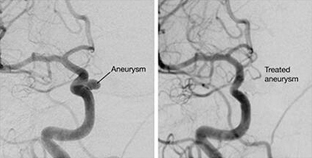 Diagnosis of sub-arachnoid aneurysm is usually by digital subtraction angiogram (DSA). All the ruptured aneurysms need treatment, while un-ruptured aneurysms are treated or followed up (Conservative management) based on DSA findings. Aneurysm can be treated by Interventional radiologist using Simple/Balloon assisted Endovascular Coiling or using flow diverters. This procedure avoids opening up of skull or "Craniotomy" reducing hospital admission Time.
Aortic Aneurysms and Dissections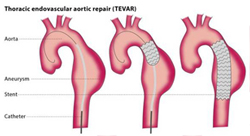 TEVAR
These are critical conditions associated with very high mortality and morbidity.Interventional Radiology offers minimally invasive and safe treatment for these conditions.Thoracic Endovascular Aneurysm Repair (TEVAR), Endovascular Aneurysm Repair (EVAR) are performed in our hospital, thereby curing the aneurysm/dissection and preventing the risk of rupture.
Embolization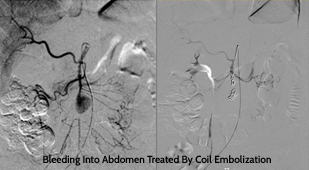 It is a life saving procedure, where the bleeding spots are embolised using embolic agents like particles, Glue or Coils. These are used in emergency conditions like Hemoptysis (Coughing out blood), post partum hemorrhage (Bleeding after delivery), Gastro-Intestinal bleed or bleeding after trauma (Visceral bleed). Many lives can be saved with this simple procedure if performed in the "golden hours"
Uterine Fibroid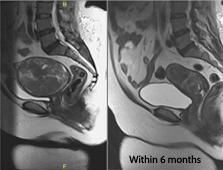 Almost 10 % of females in reproductive age group suffer from fibroid uterus. The blood vessels supplying the fibroid are blocked using particles thereby shrinking the fibroids. This procedure avoids the need for major procedure like hysterectomy (Removing the Uterus surgically). Patients can get back to their routine activities within 2 days
Symptoms Of Uterine Fibroid: Heavy menstrual bleeding (Menorrhagia). Dull lower abdominal pain due to bulky uterus. Constipation and urinary problems due to mass effect of fibroids and Infertility.
Diabetic Foot & Peripheral Vascular Disease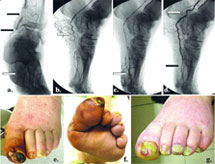 Non- healing ulcers occur in patients with long standing diabetes due to occlusion of blood vessels. Using small wires and catheters, the blocks in the blood vessels can be removed thereby increasing blood flow to the legs, promoting wound healing. Chronic Smokers can also develop occlusions in the blood vessels and can be treated with catheter directed thrombolysis/Angioplasty. These are called "Limb Salvage procedures"
Who Should Get Treatment
Diabetic patients with long standing wound which is not healing.
Smokers with claudication pain (Pain while walking) in the legs and thighs.
Sudden onset leg pain loss of sensation and or motor weakness.
These procedures are primarily to save the limb – Patients need to continue Diabetes treatment/Smoking cessation and wound care for better results.
Deep Venous Thrombosis (Dvt)
This is a condition characterized by sudden onset limb swelling and pain due to block or thrombosis of the deep veins of the leg.Can be minor (Mild leg pain and Swelling) or Major (Limb Loss or Pulmonary-thrombo -embolism). Occurs in pregnant women, dehydration, post major trauma, fractures, surgery, prolonged bed rest or travel, and certain hereditary conditions.
Treatment Options For Deep Venous Thrombosis
Catheter directed thrombolysis.
Mechanical Thrombectomy.
Iliac vein stenting.
IVC filter placement and retrieval.
Varicose Veins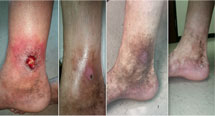 Endo-Vascular ablation therapy (EVLT) is now considered the first choice treatment in primary varicose veins. Varicose Veins are dilated, tortuous veins in the legs, which occur due to venous reflux (Back flow) in the superficial leg veins (Veins underneath the skin).
When Treatment Is Required
Not all patients with Varicose Veins need treatment. Treatment for varicose veins is needed in the following conditions.
Skin discoloration.
Recurrent ulcers.
Pain.
Bleeding from varicose veins
Management Of Cancer
Interventional Radiology In Cancer : Recent advances in Interventional radiology offer a variety of treatment options to cure or to prolong life in patients with various tumors. In terminally ill cancer patients various palliative procedures like pain relief procedures are performed. Interventional Radiology also helps in cancer treatment by pre-operative embolization (Reducing the blood flow to tumor before surgery) and performing chronic indwelling catheter placements.
Non Surgical Treatment Options For Hepato-cellular Carcinoma
Trans Arterial Chemo embolization (TACE).
Trans Arterial Radio embolization (TARE).
Radio-frequency Ablation/Microwave ablation.
Portal Vein embolization.
Radio-frequency Ablation For Tumors
Tumors are directly destroyed by using heat energy through a small needle placed inside the tumor. No scar and No harmful radiation. Complete cure is possible. Done for Liver tumors (Hepato-cellular carcinoma), Renal tumors (Renal cell carcinoma), Lung tumors (Lung Carcinoma), Osteiod Osteoma of bone and Thyroid nodules
Chronic Pain Relief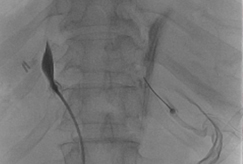 Almost 20 percent of all population suffers from some form of chronic pain (Pain lasting more than 3-6 months). Most of these could be managed by Medical management. In patients not getting relief by medical management, Image guided pain relief procedures are performed. These procedures provide good pain relief on temporary (Nerve block) or permanent basis (Radio-frequency ablation or Chemical Neurolysis)
Various Procedure For Pain Relief
Trigeminal Ganglion block/Occipital block for chronic headache.
Brachial plexus block for arm pain.
Splanchnic/Celiac plexus block for abdominal pain.
Selective nerve root block
Femoral, Saphenous and Sciatic nerve block for Chronic leg pain
Miscellaneous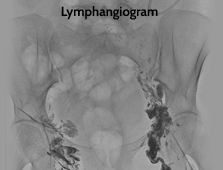 Biliary Drainage Procedures : PTBD – Internal/External Drainage (Percutaneous Trans hepatic Biliary drainage). Biliary balloon dilatation (Benign Strictures). Biliary Stenting (Malignant Strictures). Percutaneous Cholecystostomy. Percutaneous Cholangiogram (PTC).
Other Procedures
Lymphangiography.
Fallopian tube recanalization for Infertility.
Chronic Tunneled dialysis catheter (Perm Cath) for dialysis.
Fistuloplasty for salvaging hemo-dialysis fistula.