Nuclear Medicine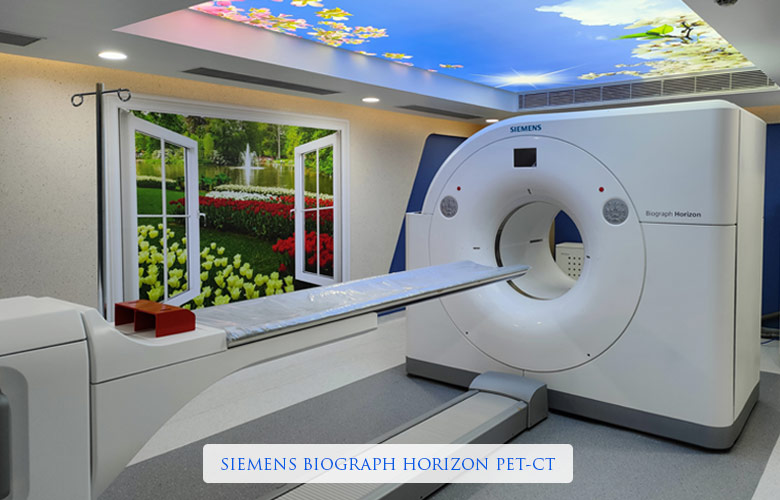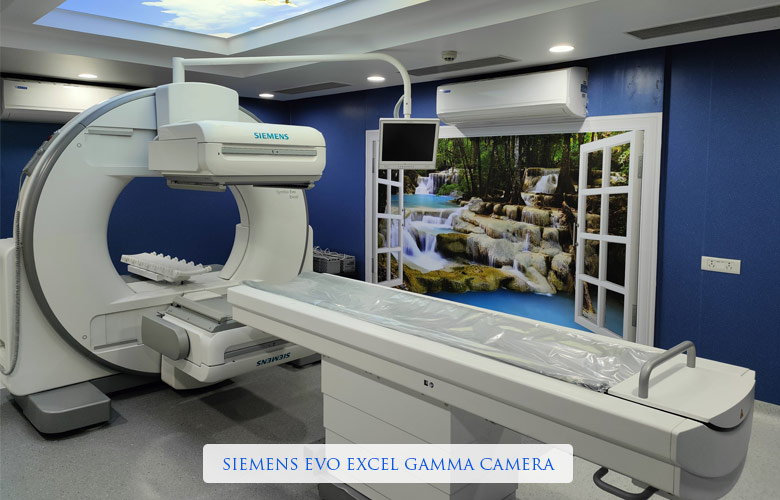 Nuclear Medicine is a medical specialty that utilizes radioactive tracers to image and treat a biological process/condition. Nuclear Medicine offers the possibility to detect diseases in early stage and assess response to treatment precisely. Its non-invasive nature allows using it as a powerful diagnostic tool for a wide array of ailments.
The nuclear medicine procedures are well established in many specialties including oncology, urology, pediatrics, endocrinology, cardiology, gastroenterology, neurology and orthopedics.
Advantages of Nuclear Medicine
Functional imaging
Functional changes occur before structural changes in pathology
Early diagnosis and treatment
Radionuclide therapy – more tumor specific and lesser adverse effects
The Department of Nuclear Medicine, PSG Hospitals, is equipped with state-of-art hybrid PET-CT system – Siemens Biograph Horizon (LSO crystal with TOF) and dual head Gamma camera (SPECT) – Siemens Evo Excel.
Advantages of PET-CT
All in one imaging
More accurate diagnosis and treatment response
Convenient and cost-effective
The department of Nuclear Medicine, PSG Hospitals, provides multitude of diagnostic and therapeutic facilities for both oncologic and non-oncologic indications.
Diagnostic
General Nuclear Medicine scans
Bone scan
Renal scans
Thyroid scan
Parathyroid adenoma scan (Sestamibi)
Myocardial perfusion scans (Sestamibi)

Stress – Physical & Pharmacological
Rest – Nitrate augmented (Myocardial viability test)

Hepatobiliary scan (HIDA/ BRIDA)
Gastro-esophageal reflux scan (Milk scan)
Meckel's scan
Direct radionuclide cystogram (DRCG – VUR)
Lymphoscintigraphy
Salivary gland scan
Esophageal transit scan
Gastric emptying scan
Colonic transit scan
Labelled RBC scan

Lower gastrointestinal bleed
Liver perfusion
Multigated acquisition (MUGA)

Brain SPECT

ECD – Brain perfusion
TRODAT – Dopamine transporter imaging

I-131 Whole body scan
I-131 MIBG scan
Liver spleen scan (Reticuloendothelial system)
Bone marrow scan
Testicular scan
Perchlorate discharge test
DMSA-V whole body scan
PET-CT
FDG PET-CT Whole body
FDG PET- CT Brain
FDG PET- CT Myocardial viability
F-18 NaF bone scan
FPSMA PET- CT Whole body
FDOPA PET- CT Whole body
FDOPA PET – CT Brain
FCholine PET-CT
Therapeutic
Radioiodine (I-131) therapy

Thyrotoxicosis
Thyroid cancer

I-131 MIBG therapy
Metastatic bone pain palliation

Sm-153 EDTMP
Lu-177 EDTMP

Lu-177 PSMA therapy
Ac-225 PSMA therapy
Lu-177 DOTATATE therapy
Ac-225 DOTATATE therapy
I-131 Lipiodol therapy
Y-90 TARE
Radiosynovectomy