Dermatology

Dedicated to research and patient care related to skin diseases, the Department of Dermatology was founded in 1989, the same year the PSG Hospitals was established From its modest beginnings, it has gone on to offer some of the best facilities available for both inpatients as well as outpatients.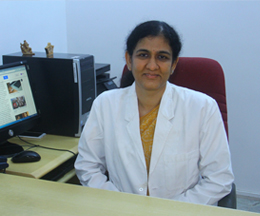 Dr Reena Rai Head of the Department of Dermatology
The department, which started offering Diplomate of National Board (DNB) courses in 1998, began offering PG diploma courses in 2001 and PG degree courses in 2006. The department also boasts of an array of research papers in national and international journals, apart from numerous papers presented in prestigious dermatology conferences. Over the years, the department's persistent quest for excellence in research while focusing on healthcare is well appreciated.
From diagnosis to treatment the department offers attached lab facilities to dispensing pharmacy
Facilities offered
PSG Aesthetic Centre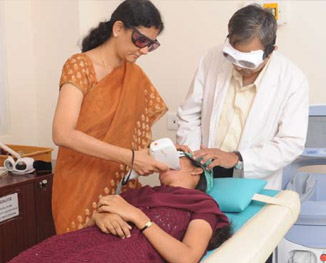 One of the first of its kind, The PSG Aesthetic Centre promises world renowned procedures with the latest equipment in a comfortable environment..
It is equipped with state of the art lasers and a fully functional hair transplantation OT. The centre is dedicated to cosmetic, surgical, and laser treatment for pigmentation, red spots, hair removal and hair transplantation.
Facilities
Hair Transplantation : Hair transplant is offered for the following conditions- androgenetic alopecia/male pattern hair loss, scarring alopecia, moustache and beard reconstruction. The hair transplant center is equipped with Mantis microscopes for the dissection and slivering of the grafts. The center is equipped for performing FUE & FUT, mega sessions, beard and body hair harvesting. The center has a American board of hair restoration surgery (ABHRS) certified hair transplant surgeon.
Q Switched Nd:YAG Laser – for pigment removal like tattoo removal, pigmentation, moles and melasma.
Diode Laser – used for unwanted hair reduction. Targets both pigmented and lightly pigmented hair.
CO2 Laser Cautery – removal of warts & keloids
Fractional CO2 Laser for acne scars & Skin rejuvenation
Cynergy Multiplex Laser -Combines Pulsed Dye Laser & Long Pulse Nd YAG Lasers – used in the treatment of vascular lesions, Broken blood vessels, Facial redness, Port-wine stain, Spider veins on the face, trunk and legs
Cosmetology
Botox for wrinkles
Fillers for deeper wrinkles, hollowness and bags under the eyes
Chemical peels and laser for Facial rejenunuvation
Facial thread lifting for contouring face.
Platelet rich plasma for glow and rejuvenation of face.
Laboratory
KOH mount
Saline wet mount
Grams stain
Giemsa stain
Slit skin smear
Tzank smear
Dark field microscopy
Trichogram- analysis for hair loss
Allergy testing
Patch test to detect allergy for eczema
Prick test detects allergies to food mites
Dispensing pharmacy
Creams and ointments are constituted and dispensed in our out patient department for acne, hairloss, dry skin, dandruff, fissure feet, ulcers and other skin conditions.
Treatment facilities:
Phototherapy- Treatment with ultraviolet light for vitiligo, psoriasis
Targeted phototherapy for localized lesions of psoriasis, vitiligo
Vitiligo surgery- Pinch graft, punch graft blister roof graft, autologus non cultured melanocyte cell transfer
Nail Surgery- Nail biopsy, Nail removal for treatment of nail associated problems.
Corn Removal
Electrocautery- warts, skin tags etc
Cryosurgery for removal of warts
Iontophoresis for excessive sweating
Ear lobe repair
Platelet rich plasma for hair loss.
Cosmetic camouflage for uniformity of skin tone
Awards and Recognition:
Dr.Reena Rai was the past president of Tamilnadu Branch of IADVL
Best original research paper for 2016 in Indian dermatology online journal- Photopatch and UV irradiated patch testing in photosensitive dermatitis
More than 100 scientific papers have been published from the department in the past 3 years
The department organizes workshops / CME every year
The department staff have contributed chapters in leading textbooks in the field of dermatology
Research
The department of dermatology is actively involved in research projects on various sub specialities of dermatology.
Indian association of Dermatology Venerology and Leprology and L"oreal has given grants to the department to conduct research.