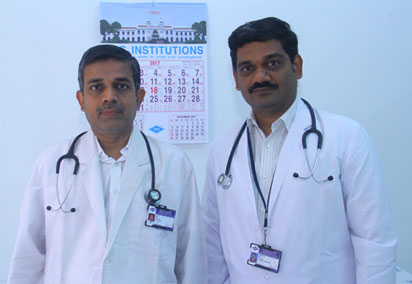 PSG Hospitals established the Department of Nephrology in 1992. In the beginning, it was run by Dr K. Jayachandran, who was helped by Assistant Professor G.A. Suresh. From such a modest start, the unit has come a long way to include a Professor, an Assistant professor, two residents and thirteen dialysis technicians, guided by Dr G.Venu, Professor and Head of the Department.
In 1993, the department started intermittent peritoneal dialysis, which uses a membrane present inside the body; and haemodialysis, which involves taking blood out of the body, purifying it through a dialysis filter and then returning it to the body.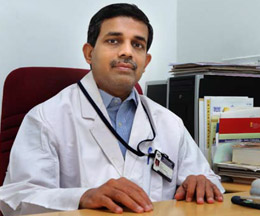 Dr G. Venu, Head of the Department of Nephrology
Today, it has one of the best dialysis units in Coimbatore, with 27 state-of-the-art machines, two ART Plus machines and a continuous renal replacement therapy machine. It has done about one lakh dialysis since 1998. Its services are very economical and it performs 2,000 dialysis every month. Emergency dialysis is available round the clock at PSG Hospitals. It also performs continuous ambulatory peritoneal dialysis, which happens throughout the day even when a person is at work
In 1998, the department started live related donor kidney transplantation. It is a recognized centre for deceased donor kidney transplantation since 2012. It has a routine kidney transplant program which is economical and is one of the centers recognized by the Prime Minister's National Relief Fund as well as Chief Minister's comprehensive health insurance scheme.
The unit is also known for accurate diagnosis using renal biopsies besides Plasmapheresis which is a blood purification procedure that is used to treat several autoimmune diseases.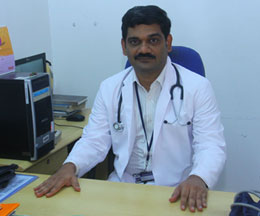 Dr G. Vasanth, Nephrologists
Other procedures in our centers, include continuous veno-venous haemo-fitration, online haemo diafiltration to treat acute kidney injury and charcoal haemoperfusion to tackle poisoning and drug toxicity. A facility to perform molecular absorption recirculating system and single pass albumin dialysis which enables simultaneous liver and kidney detoxification, is unique to this department. Further the department has facilities and expertise to carry out combined liver and kidney transplants.. It has plans to expand in areas such as ABO-incompatible kidney transplantation, Pediatric nephrology, interventional nephrology and stem cell therapy for kidney diseases.
The department offers a super-speciality degree in Nephrology and a bachelor's degree in dialysis technology. The department also guides students from PSG College of Pharmacy and Nursing in their projects.
Special Clinical Services
Outpatient consultation in all working days
Emergency services available round the clock
Separate Inpatient general & special wards
Fully equipped dialysis unit with 24 hours care provided by trained dialysis technicians and doctors
Separate dialysis machines for sero negative & sero positive patients
Separate dialysis machines for both HCV & HBsAg-positive patients
Routine CAPD program (Home dialysis)
Kidney transplantation: Live donor and deceased donor program.
Training program for Post Graduates ( MD – General Medicine, DM Nephrology )
Recognized training centre for B.Sc Dialysis Technology and DM Nephrology courses
Comprehensive total kidney care for Adult & Paediatric patients.
Facilities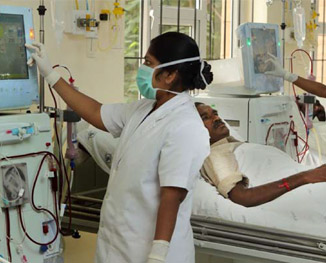 Fully equipped Dialysis unit
25 dialysis machines
1 CRRT machine
2 ArRT plus machines
1 dialysis machine standby for emergency dialysis
1 dialysis machine for both HBsAg & HCV positive patients
Renal Transplant
Today the Department has undertaken 291 successful Renal transplant surgeries and hope for the best in coming years.
Research
A study of factors determining outcome of acute renal failure patients requiring Hemodialysis – Dissertation done by Dr. Pabolu Surendrakumar (DM – PG Nephrology)
Dr. Saravanan (DM – PG Nephrology) is doing his dissertation on Determinants of quality of life in Haemodialysis patients
Hepatitis C and associated risk factors in maintenance haemodialysis patients – project done by Dr. Pabolu Surendrakumar (DM – PG Nephrology), Dr. G. Venu MD., DM, Dr. Sophia Rani MBBS.
Awards
Dr. Pabolu Surendrakumar (DM – PG Nephrology) presented a paper "Prevalence and risk factors of hepatitis C among maintenance haemodialysis patients at a tertiary care hospital in Coimbatore" in February 2011 in ISNSC CON 2011 – International Conference Thrissur and had been conferred " BEST PAPER AWARD"
Publications
Serum Cystain C levels in renal transplant recipients – Indian journal of Clinical biochemistry 2010; 30(4): 532-538
Effect of haemodialysis on circulating cystatin C levels in patients with End Stage Renal Disease – Indian Journal of clinical biochemistry 2010(25(1)) 43-46
Hepatitis C and associated risk factors in maintenance haemodialysis patients – Journal of clinical and diagnostic research 2011 August Vol 5(4); 725-728
Effect of haemodialysis on plasma MPO activity in End Stage Renal Disease patients – Indian journal of clinical Biochemistry (2012) 27:253-258
Obstructive uropathy in benign prostatic hyperplasia – Chap 15: 168-176. Benign prostatic hyperplasia; Manickam Ramalingam/ David M. Albala (2012) – medical communications
Outcome of pulmonary hypertension in post renal transplant recipient  – World congress of Nephrology (2015) – Poster no SUN389 – March 13 to 17,  2015
A study of clinical characteristics, complications and outcomes of AKI in patients with cirrhosis – World congress of Nephrology (2015) – Indian Society of Nephrology Poster no  (SUN 245)- March 13 to 17,  2015
Angiodysplasia presenting as Episodic Gastro Intestinal Bleed in an elderly CAPD patient Indian Journal of Peritoneal dialysis – Vol 28 April 2015 – ISSN NO: 0976-4194, 3 pages –  www. ijpd. net
White collar rhabdomyolysis with acute kidney injury – Indian Journal of Nephrology- Indian J Nephrol 2016;26: 449-51 – DOI : 10.4103/0971-4065.177209 – www. indianjnephrol. Org
In collaboration with PSG College of Pharmacy and Nursing
A clinical evaluation  on intravenous iron versus oral iron in renal failure patients with anemia –  A prospective study
Therapeutic drug monitoring of  "Vancomycin in various degrees of renal function
Evaluation and pharmacist intervention for improving adherence among renal failure patients
Dose optimization of colistin in critical care patients by Therapeutic Drug Monitoring