Neurology

Our nervous system is complex and sophisticated. It coordinates and regulates all functions of the body through the brain, the spinal cord, neural elements like eyes, ears and skin, and other sensory receptors. In 1996, PSG Hospitals started the Department of Neurology to study and treat disorders of the nervous system. Dr M.B. Pranesh, the senior most consultant is an Emeritus Professor of Neurology and is a Fellow of the Royal College of Physicians of London. The department is currently headed by Dr. Balakrishnan.
From the beginning, the department has provided outpatient care to people suffering from problems like headache, seizure disorders such as epilepsy, and diseases of the central nervous system like multiple sclerosis (a debilitating condition in which the body's immune system damages the protective sheath that covers nerves, disrupting communication between brain and other parts of the body). Special counselling sessions are organised for epilepsy patients to help them deal with recurring seizures and continue with their normal life.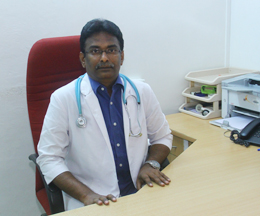 Dr. R. Balakrishnan, Head of the Department of Neurology
The unit also gives critical care to patients affected by acute cerebrovascular accidents (stroke); intractable seizures and the Guillain-Barre syndrome (a disorder which is caused by the body's immune system attacking the nerves and can sometimes lead to paralysis).
The department has a wide range of modern equipment, including an electroencephalography (EEG) machine to map the electrical activity of the brain. It also uses highly advanced neuro-imaging facilities, such as a Magnetic Resonance Imaging (MRI) and Computed Tomography (CT) scan. It has a holistic view of treating neurologically ill patients to rehabilitate them and make them functionally useful to society. The unit is also planning to start a special epilepsy clinic and a rehabilitation cell for neurologically handicapped persons in the near future.
Facilities
Outpatient consultations are from Monday to Saturday between 8 am and 6 pm
Emergency services are available – 24 hours a day / 7 days a week
Separate inpatient general and special wards for patients with 24 hours care is provided by trained nurses and duty doctors.
Fully equipped Neuro intensive care unit which consists of 15 beds, with duty doctors and
specially trained nurses for neurological patients.
Lab for conducting EEG, NCS, SSEP, VEP, BR, ENMG tests run by well trained technicians
BOTOX Injection Procedure for vascular movement disorders and for Spasticity in Cerebral Palsy and Post Stroke Status
State of the art thrombolytic procedure for stroke patients
The Department has facilities to conduct tests for- Electroencephalography, Nerve Conduction Study, Visual Evoked Potential, Blink Reflex and Somatosensory. The Department has PG teaching programs affiliated to Dr.MGR University, approved by Indian Medical Council.