Orthopaedics & Trauma
The Department of Orthopaedics was started in 1987 by Prof. M.V. Daniel, as a single unit. Dr. James Gnanadoss and Dr. Jayakumar helped in expanding its scope. Today, the department, headed by Professor B.K. Dinakar Rai, has 15 surgeons and is a major centre of trauma care at an affordable cost. The department is fully equipped to provide emergency care 24 hours a day. It has been offering postgraduate programmes since 2001.
The members of its faculty are experts in different subspecialities of orthopaedics and trauma care. With the assistance of the physiotherapy department, the occupational therapy department and the orthotic centre, they are also able to provide non-invasive and cost-effective assistance to manage disability and help rehabilitate patients.
The department uses the services of neuro, plastic, cardiovascular and general surgeons to give complete care to patients with multiple injuries including hand injuries. It treats fractures quickly and efficiently as per international standards with latest implants and equipment. The surgeons often use minimally invasive techniques that leave small scars and facilitate quick recovery of patients.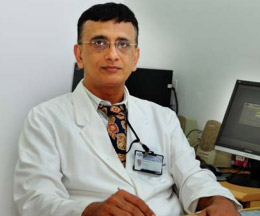 Dr. B.K. Dinakar Rai, Head of the Department of Orthopaedics & Trauma
The department pays a lot of attention to cure sports-related injuries like those to cartilages, ligaments, fibrocartilage strips in the knee (menisci) and other joints through arthroscopy, a version of key-hole surgery. It is also equipped to surgically reconstruct ligaments using this method.
PSG Hospitals has a well trained and fully equipped unit that can perform arthroplasty, a surgical procedure that restores the integrity and function of a joint by resurfacing it or replacing it with artificial body parts (prostheses), at a nominal cost. Ilizarov procedures to lengthen or reshape limb bones or treat complex fractures, total hip replacement, spinal stabilisation and closed interlocking nailing are some of the other specialities of the department.
The department also conducts an osteoporosis clinic to assess bone density and strength to prescribe preventive and curative solutions. Another speciality of the department is paediatric ortho care – this involves a minimal intervention policy and stringent follow-up protocols. In coordination with social service organisations, it treats, free of charge, polio patients and corrects congenital deformities like club foot. To perform these complicated surgeries, the department has sophisticated equipment such as a portable imaging system (C-arm with an image intensifier and twin monitors); an ultramodern electronic fracture table; high quality pneumatic and electric instruments; Karl Storz camera with light source; arthroscopes; most modern operating microscopes; 24-hour X-ray, spiral CT and ultrasound facilities; fully equipped vascular lab; a physiotherapy unit; an occupational therapy unit; an orthotic and prosthetic unit; a modern theatre complex with intensive and intermediate care units; and a blood bank besides general, semi-private and special wards.
Services include
Trauma Care, Joint Replacement. Arthroscopy, Spine, Deformity and limb length correction, PaediatricOrthopaedics, Arthritis and Rheumatology,Geriatric Orthopaedics and Orthotics and Physiotherapy
Our Services
Trauma & Joint replacement
PSG Hospitals offers the latest in Adult Reconstruction and Joint Replacement for the hip, knee, and surgical arthritis. The hospital deals with a wide range of musculoskeletal conditions and carries out joint replacements. From diagnosis and treatment to recuperation and well-being, PSG Hospitals has a blend of experienced surgeons and rheumatologists who provide top quality care for hundreds of patients every day.
A surgery is always the last option at the PSG Hospitals. It is carried out only when other options like the physical therapy and medications have been tried, but failed to deliver results. Severe joint pain affects a large chunk of population that includes the elderly, sports people and accident-hit. A joint replacement surgery is a vastly successful means of eradicating joint pain. It can also be performed to treat advanced arthritis, correcting deformity and reviving mobility.
Our team of surgeons are well supported by a multidisciplinary team of physicians, rehabilitation therapists and nurses who are as committed as the surgeons to provide services of global standards, in areas of joint preservation and reconstruction.
Knee Joint repair and replacement options available at PSGIMSR are:
Total knee replacement
Osteotomies
Revision knee replacement
Hip Replacement and alternatives:
Total hip replacement
Hemiarthroplasty
Resurfacing arthroplasty
Core decompression / Bone grafting / Osteotomies
Revision hip replacement
Arthroscopy
An arthroscopy is a type of keyhole surgery that is used to visualize, diagnose problems within the joints and to repair damage to joints.
The procedure is most commonly used on the knees, wrists, elbows, ankles and shoulders. An arthroscopy can be used to help diagnose a number of joint problems including:
Unexplained joint pain
Joint stiffness
Swelling of the joint
Limited range of movement within the joint
The joint giving way at certain times or 'popping' out of position
Arthrofibrosis – where excess scar tissue that has been caused by a previous injury disrupts the normal workings of the joint
Bone spurs-abnormal bone growths that can cause persistent pain
Synovitis – where the lining of the joint becomes inflamed
Spine
We have surgeons dedicated to the evaluation, diagnosis and treatment of back pain and spinal conditions like:
Aging spine
Ankylosing spondylitis
Cervical spondylosis
Back injuries
Back pain due to pregnancy
Chiari malformation
Chronic back pain
Degenerative disc disease
Degenerative spondylosis thesis
Facet joint syndrome
Failed back and failed fusion syndrome
Fibromyalgia
Flat back syndrome
Foramen stenosis
Herniated disc
Kyphosis
Neck pain
Osteoarthritis
Osteoarthritis of the facet joint
Osteoporosis
Osteoporotic compression fractures
Pinched nerve
Piriformis syndrome
Sacroiliac joint dysfunction
Sciatica
Scoliosis
Spina bifida
Spinal stenosis
Spinal tumors
Swayback
Deformity and limb length correction
A large number of patients come to us with limb and bone defects that they previously thought to be untreatable. Our specialists offer care for limb length discrepancies, deformity correction, fractures, non-unions, mal-unions, bone trauma or cosmetic needs for both adults and children.
We have experts dealing with Ilizarov and AO frames in treating limb discrepencies and deformity correction.
The Ilizarov technique offers many advantages over other treatments, including:
Minimal soft tissue dissection required
Bone regeneration potential
Tremendous versatality
Ability to stabilize small bone fragments with thin tensioned wires
The Ilizarov technique is particularly useful for the treatment of complex problems, including:
Severe Acute Fractures
Fracture Nonunions
Infected Nonunions
Segmental Defects (large areas of missing bone)
Chronic Bone Infections
Deformities
Paediatric Orthopaedics
PSG Hospitals is dedicated to improving the lives of children and young people suffering with complex musculoskeletal conditions.The multi-disciplinary effort of orthopaedists, paediatricians, rheumatologists, anaesthesiologists, radiologists, nurses and therapists ensure that children receive top-class treatment.
Treatment Areas
Cerebral Palsy
Blount's disease
Bowlegs
Club foot
In toeing & Out toeing
Knock knees
Leg Length discrepancy
Scoliosis, Kyphosis
Slipped capital femoral epiphysis
Spina Bifidia
Trauma
Tumours
Post Polio residual paralysis
Arthritis and Rheumatology
Arthritis and Rheumatoid Arthritis severely affects the joints and compromises the ability of patients to carry out their routine activities.Major types of inflammatory diseases are Reactive Rheumatoid Arthritis, Ankylosing Spondylitis and Psoriatic Arthritis.One should be aware of the difference between Inflammatory Arthritis (IA) and Osteoarthritis.
Geriatric Orthopaedics
Osteoporosis is a silent metabolic bone disorder in which the tissue of the bone breaks down, making of the bone becomes increasingly fragile, leading to an increasing risk of fracture especially in old age people.There are no warning signs or symptoms until fractures occur. Also known as osteopenia, which refers to low bone density can affect people of all ages. Loss of bone during adolescence and early adulthood can be an outcome of inability to achieve good bone mineral density and bone loss may be mostly recorded around menopause and in later years.
We ensure all the patients who are at risk of osteoporosis are treated prophylactically on in/out patient basis.
Download Pdf