Paediatric Surgery
Paediatric surgery is one of the super-speciality units that slowly evolved from the Department of General Surgery at PSG Hospitals. Its first surgery was in 1992 when Dr Ravikumar, a visiting Professor, removed a spleen from a child to treat an autoimmune condition called ITP. He was assisted by Dr Pavai Arunachalam, then a general surgeon, who later became the Professor and Head of the Department.
In August 1995, the Department of Paediatric Surgery started functioning as a separate unit with daily outpatient clinics and operations twice a week. The department started doing major surgical procedures under the guidance of Professor Mammen, who joined the hospital as a visiting consultant after retirement from Christian Medical College, Vellore. In 2009, the department created a second unit under Dr Cenita J. Sam.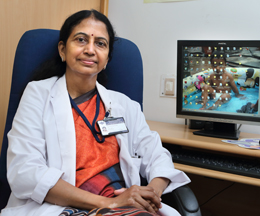 Dr Pavai Arunachalam, Head of the Department of Paediatric Surgery
Speciality clinics are conducted for bowel and bladder incontinence and for children with vascular anomalies. Its paediatric gastroenterology unit has facilities to conduct anal manometry to evaluate bowel function. It is also equipped with small endoscopes and colonoscopes to diagnose and treat conditions such as bleeding or obstruction involving the alimentary canal, and foreign body retrieval.
The introduction of antenatal ultrasound has enabled obstetricians and paediatricians to give counselling on anomalies of foetuses and their management after delivery. In August 2011, a team of doctors at PSG Hospitals performed for the first time in Tamil Nadu an EXIT (Ex-utero Intrapartum Treatment) procedure on a mother diagnosed to have a foetus with a large neck mass that was compressing the windpipe. If delivery had proceeded routinely, there was a high risk for the baby to have suffered brain damage due to difficulty in breathing. This EXIT procedure enabled a safe delivery and this was followed by operation on the baby after stabilisation.
The department has started performing laparoscopy in newborn babies with the arrival of smaller scopes. It does cystoscopic fulguration of posterior urethral valves that obstruct bladder outflow. It also performs minor day-care procedures like herniotomy, orchidopexy and circumcision, allowing patients to go home the same day. It has a separate intensive care unit for paediatric patients with burns.
To its credit, the department has conducted many workshops. They include a cleft-lip workshop; an international laparoscopic workshop in 1998 under the banner of the Indian Association of Paediatric Surgeons; and a paediatric urodynamic workshop for surgeons from Tamil Nadu and Kerala.
In the near future, the department aims to become a centre of excellence for complicated paediatric surgical procedures and state of the art perinatal counselling centre.
Faculty
Dr. Pavai Ganesan MS MCh

HOD and Professor of Paediatric Surgery
Dr. Pavai Ganesan is an undergraduate student of Stanley medical college and completed her MS General Surgery from Madurai Medical College. She did her pediatric surgery training in Institute of Child health, Chennai and has been in PSG since then. She went for one year fellowship to Perth Children's Hospital and worked as a Senior Registrar in Al Wasl Children's hospital, Dubai for a year. Her special interests are neonatal surgery, vascular anomalies and antenatal counseling.
Dr. Cenita J Sam MS MCh

Professor of Paediatric Surgery and Unit II chief
She had graduated from Tirunelveli Medical College and did her Post Graduation in General Surgery from Madurai Medical College. She worked in the Department of Anatomy and Plastic surgery in Christian Medical College, Vellore and specialized in Paediatric Surgery from the same institute which runs an excellent graded and monitored training program for its students. She worked as a faculty in the Department of Paediatric Surgery, Rajah Muthiah Medical College Annamalai University, Chidambaram for three years and then joined as a faculty in PSG IMSR in June 2008. Her area of interest is Paediatric Urology.
Services Available
Outpatient consultation
Emergency services are available – 24hours a day / 7days a week
Separate inpatient ward for general ward and special ward patients with 24-hours care provided by paediatric nurses and duty paediatrician.
State of the art theatre with facilities for operating on newborn with the availability of warmers / infusion pumps / monitors and ventilators. Paediatric Anaesthetists and trained staff nurses are available.
Fully equipped Neonatal intensive care unit / Paediatric intensive care unit with duty doctors.
Separate burns ICU with burns ward with a survival of 60% burns in the Paediatric
age group.
Day care surgery – minor procedures such as hernia / circumcision / orchidopexy is performed and the patients go home the same day.
Training of Under Graduates and Post Graduates is done and regular research projects and publications have been accomplished by students.
Recognized training center for M.Ch Paediatric surgery.
A well equipped department and institutional library to complement all this
Specialty Clinics
Bowel bladder incontinence clinic
Children who pass urine and motion without their knowledge are social outcasts. This can happen due to many disease conditions such meningo-myelocele or ano-rectal anomaly. These patients should be investigated and treated by conservative and surgical modalities. This clinic has a good support system from radiology, urodynamics unit, physiotherapy, orthopaedics and plastic surgery. At the end the children become socially continent.
Vascular anomalies clinic Children may have birth marks or reddish marks anywhere in the body. Many of these can disappear over time but can cause damage to the overlying skin. There are few vascular anomalies which keep growing. Correct diagnosis should be made in order to cure or limit the damage caused by these anomalies. Treatment / counseling are done by utilizing the latest treatment modalities. A LASER unit is available in dermatology and MRI and interventional radiology helps in the treatment / counseling of these children.
Paediatric Gastroenterology – small endoscopes and colonoscope are available. Anal manometry is also available. The presence of these equipments aid in the diagnosis and treatment of conditions such as esophageal varices, hematemesis / melena, obstruction, constipation, foreign body and dilatation.
Day care surgery – minor procedures such as hernia / circumcision / orchidopexy is performed and the patients can go home the same day
Separate burns ICU with burns ward with a survival of 60% burns in the paediatric
age group.
Perinatal counseling
With the advent of antenatal ultrasound all fetuses with anomalies are counseled with a team of obstetricians and paediatricians regarding the prognosis and management after delivery.
Research projects
Detection of anomalous fetuses and their outcome
Management of peri-operative fluids in children.
A comparison of open / Vs laparoscopic pyeloplasty.
An ongoing project on "To assess the awareness of preconception care and counseling in pregnant women in Coimbatore" is being done.
Awards
There is a special prize paper session for MBBS students held during the annual conference of paediatric surgeons of Tamilnadu – Dr.Gnanaseelan prize paper. Dr.Gnanaseelan was a paediatric surgeon who loved teaching the students and died because of cardiomyopathy. This prize paper was started by his students and family to encourage learning. PSG students have made us proud by procuring this award every year for the past four years.(2009-2012).